Multimedia Visual Artist Lauren Curtis
Multimedia Visual Artist Lauren Curtis was graduated with a BFA from Mason Gross School of the Arts, Rutgers University (New Brunswick, NJ), in 1988. She has remained in the New Brunswick/Franklin Park, NJ area ever since and has been creating as a full-time artist.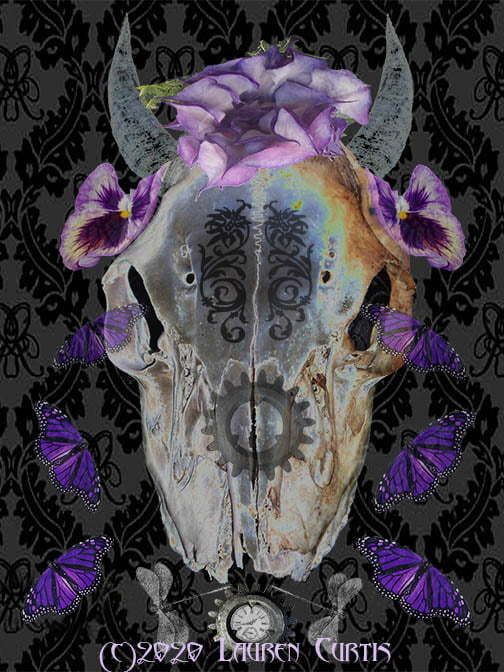 She enjoys working in a variety of media, including oils, collage, pen & ink, watercolor, and photography.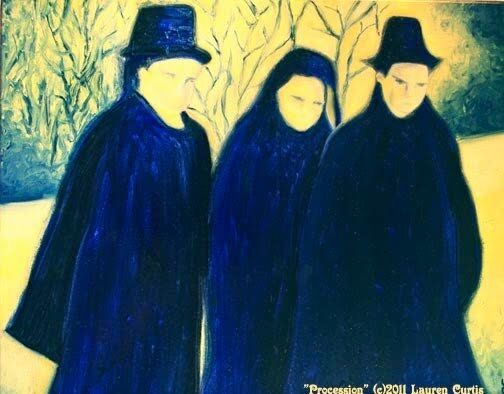 The artist is happiest when creating pieces that represent her love of nature, wildlife, travel, and spiritual subject matter.
The symbolism and mythology of ancient cultures are fused with the symbols from modern-day, natural spiritual practices, to form a unique and eclectic style. These images are often portrayed through the woman's perspective, showing the importance of "The Feminine", which is sometimes overlooked.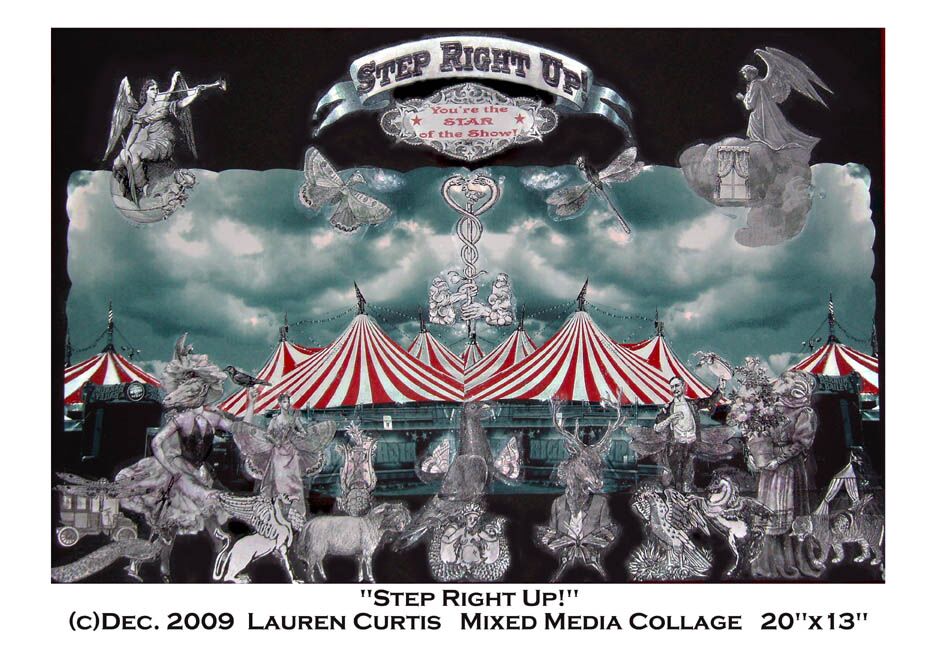 Travel is another major influence in Lauren's work and the pieces, usually, photographs, created from these journeys helps the artist to convey the beauty found in diversity, as well as in the similarities, that run through various cultural belief systems. As someone who believes in Earth-centered spirituality and the importance of mythology, Lauren has & continues to study the myths of various ancient and modern cultures and religions, which ties together her love of travel, nature, and symbolism. This is evident in her photography and digital mixed media work, which includes her current series,
"X-RAYted",
which began in 2010 & continues today.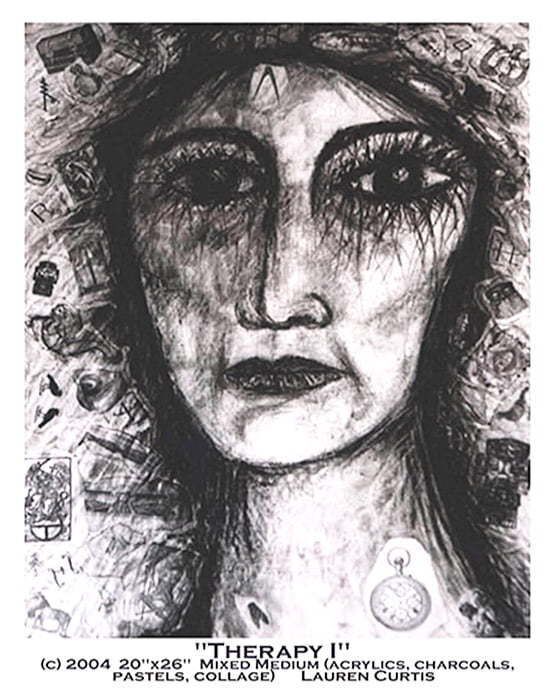 In this body of work, Lauren incorporates photos she has taken of human and animal x-rays, which are combined with other original photos, as well as various collaged elements.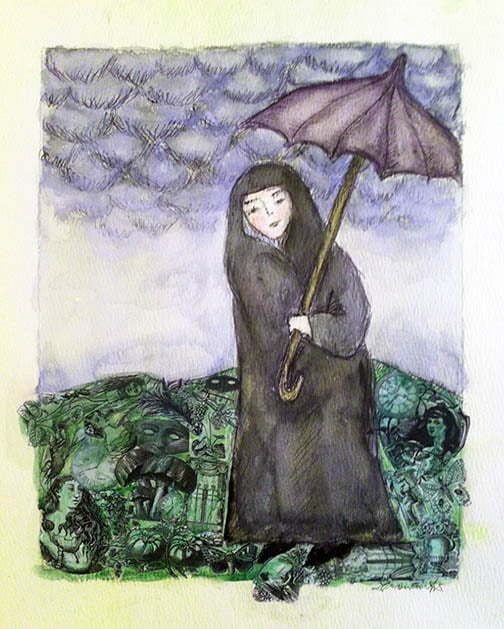 Another series, "Mystics & Mourners", which is composed of oil paintings and watercolor with collage pieces, also portrays our connection to nature and touches on our mortality as well. These works represent the more Gothic style of the artist's work as well as more examples of how spirituality plays an important role in Lauren's pieces.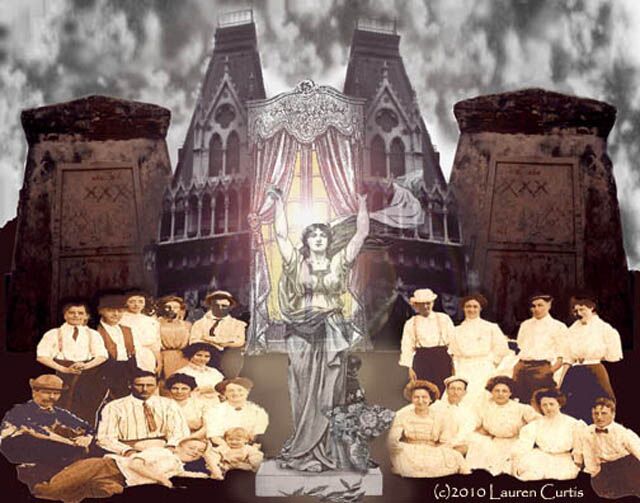 Lauren has had artwork and poetry published by greeting card and crafter companies, magazines, children's books, and historical organizations, including the
Middlesex County Cultural & Heritage Commission (New Jersey)
One of her pieces was selected for the permanent collection of the Joyce Kilmer Library in central NJ. Her work has been displayed in private collections, healthcare centers, and galleries and was selected for
a solo exhibit at Johnson &Johnson World Headquarters, July-August, 2009.
She was a featured artist on the Science Channel's TV show Oddities (2011-2012), was also featured on Germany's TAFF TV (2015), several New Jersey/New York City cable /YouTube TV shows and has done radio interviews as well. Lauren has participated in over 150 solo, group & juried exhibitions throughout the US, won multiple awards, and is a member of NJ Arts organizations. Her artwork has been sold throughout the US and abroad and she exhibits her work monthly in gallery shows, art fests, and cultural events.
About 10 years ago, Lauren ventured into becoming an art teacher, giving private one on one or small group lessons to beginners and intermediates of all ages.
She then expanded to becoming a marketing coach for a wide variety of creatives who want to expand their own artistic careers. This has been very rewarding and she continues to expand her classes and student base.
Being that she can teach both in-person and virtually, she has students both locally in Central NJ as well as several other states and has had students as far away as Greece! Lauren finds this work very rewarding as well as a great way to supplement her income in between commissions and freelance illustration work, which includes children's book and other publication illustrations, book cover design, logo, and marketing material design and more.
To keep updated on Lauren's art schedule, please visit Her Website where you can also sign her email list.
Want to Become an Art Patron?